Welcome to Trapani: the city of the salt, the wind, and much more...
In 2023, COMPOSITES will come for the first time to Italy and in particular to Trapani!
Most famous in recent times for having hosted the 8th and 9th Acts of the Louis Vuitton Cup, part of the Americas Cup, Trapani boasts a long history which, according to myth and legend, all began when a giant scythe fell off the back of a chariot. The chariot in question belonged to Demeter, who was roving around Sicily, desperately searching for her missing daughter, Persephone. She had no time to stop and pick up her drepanon (scythe in ancient Greek), so it remained where it landed, forming a tongue of land on which the town of Trapani would subsequently be founded.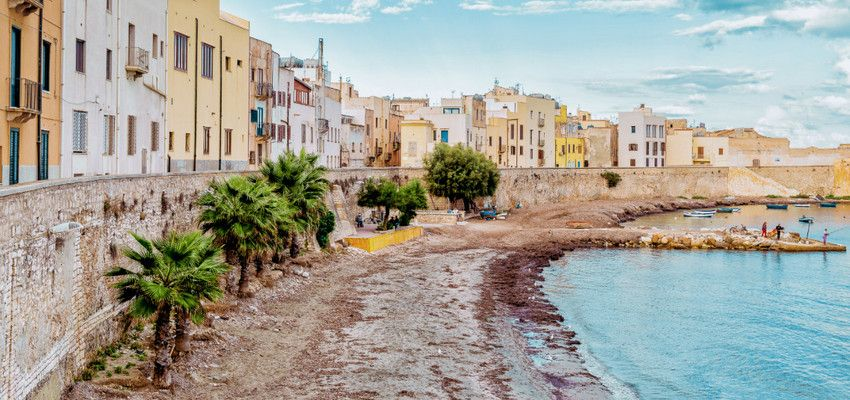 Trapani: North walls.
While it would be lovely to believe such stories, the rather more mundane reality is that Trapani was founded by the Elymians, who used it as an agricultural centre for their hill-top fortress town of Eryx (modern-day Erice).
Enrice, Venus Castle
When the Phoenicians took over, Trapani was transformed into an important port. During the First Punic War, the Phoenicians first scored a famous victory over the Romans in Trapani but they lost the war in the Battle of the Aegates.
Cala Rossa, Favignana, scene of the battle of Aegates
The port became even more important as tuna fishing and salt production became the principle activities of Trapani and its surrounding area. Tuna fishing plants (tonnare) soon sprung up all along the coast, and many of these evocative, generally crumbling structures can still be seen in San Giuliano, San Cusumano, Isola di Formica, Favignana, Bonagia, San Vito Lo Cap and Scopello. An annual mattanza (culling) of tuna took place off the Egadi Islands every spring.
Traditional tuna fishing
The excellent quality of the salt produced in the salt pans was internationally renowned and was exported, amongst other places, to Norway where it was used to cure cod.
Sea salt pans
Nearby is the perfect beach of San Vito Lo Capo, the wine town of Marsala with its impressively restored old town centre, the aforementioned hill-top town of Erice, and the Temple and Amphitheatre at Segesta.
Temple of Segesta
Trapani city centre
Today, Trapani's old town centre, much of which has recently been restored, is well worth a visit and is an essential point of departure for the magnificent Egadi Islands, just a few miles off its coast. I look forward to welcoming you to this exciting city!